#47 j-labs IT Academy
Passwords: do you keep them safe?
We invite you to the first IT j-labs in this season.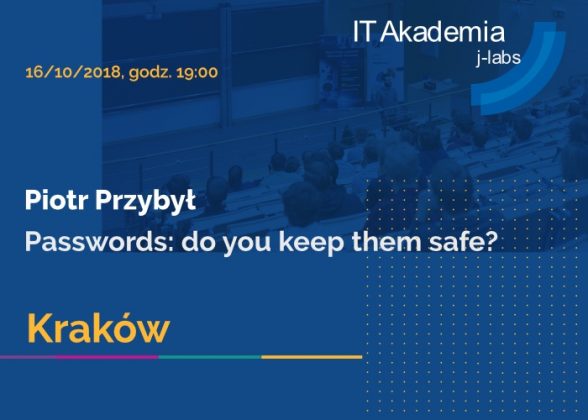 Some people think that the recipe for secure passwords in the [web] application is simple: mix a bit, add something extra and it's ready! Meanwhile, storing passwords and other data may require a bit more care. You will see some examples of how to do it right, and what to avoid. The examples presented will be written in Java, PHP and C, so every programmer will understand it, regardless of language and level of experience. As part of the extended edition, we'll migrate our derelict database and release a few benchmarks.
► Speaker: Piotr Przybył
An engineer at work and beyond, following the meanders of programming art. Professionally – Remote Freelance Software Gardener, for several years, uprooting weeds in web gardens and usually cutting Java to the shapes desired by customers. A lover of lightness and agility, which should manifest itself first of all in the use of the right tools. Lead developer, trainer, Speaker at JDD, GeeCON, DevoxxPL, 4Developers and others.
Let's get in touch!
Write to us if you want to talk about how we can work with you or your company.