Microservice architecture / Bringing Distributed Ledger Technology to the Enterprise
Workshops
The goal of the workshop is to share knowledge about real-life applications and challenges of microservice technology and the latest developments in DLT/Blockchain space and how to leverage it to improve or create new business models.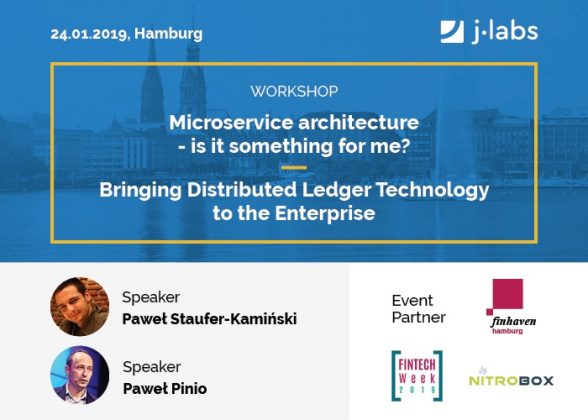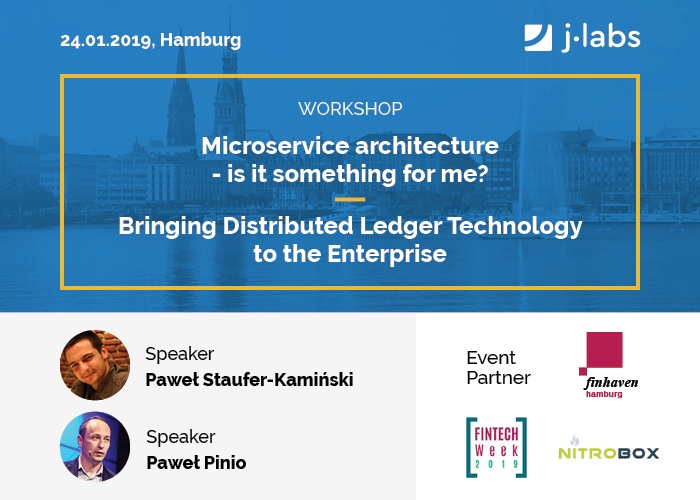 First block – Microservice architecture – is it something for me?
• microservice architecture – your project friend in the long run (gains over monolith)
• the benefits of microservices you may not know about
• headaches with microservices, are they really so scary – how to deal with them
• security comes first – how it looks in microservices
• What is it and what is it for? – CQRS
• Become more advanced with event-sourcing
Speaker: Paweł Staufer-Kamiński
Software engineer and architect with over 11 years' experience in building solutions for the finance, media, and gambling industry. A great enthusiast of REST and microservice architecture. Man with a pragmatic and positive approach to whatever he's doing. Currently working with Nitrobox on building REST API based, microservice platform for Order-To-Cash processes.
______________________________________________________
Second block – Bringing Distributed Ledger Technology to the Enterprise
• An in-depth comparison of modern blockchain architectures and consensus models
• Real life smart contract use cases
• Challenges of blockchain digital transformation
• Implementation risks, failures, and compromises
Speaker: Paweł Pinio
Solution architect with strong experience in building fault-tolerant, scalable systems. He began his career working on SAP ERP systems and from there he moved to coding bespoke insurance quote engines and healthcare management solutions. He then moved into interdisciplinary consulting which allowed him to work for various enterprise clients, including Pearson, HMS Host (Autogrill), or Shaw Communications. As a CTO, Paweł helped build the first blockchain startup in Kraków, getting to know the ins and outs of Ethereum, cryptocurrencies, smart contract development, and consumer-oriented blockchain applications. His most recent work revolves around the notion of decentralized identity, transaction anonymity, and digital transformation of businesses through the appliance of permissioned blockchain networks.
Join our free-of-charge workshop on the 24th of January in Hamburg!  If you want to participate please contact Martin Konieczny or Bartosz Rybski.