Successful blockchain worshop in Frankfurt
Blockchain
In association with prestigious Frankfurt School of Finance & Management – Blockchain Center, we organized the first open blockchain workshop – How to decentralize your business with Smart Contracts?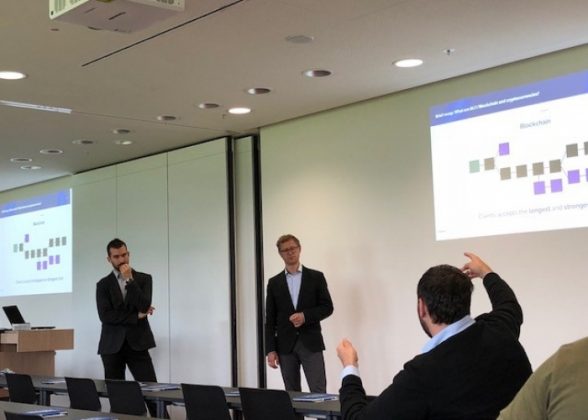 Tomasz Korwin-Gajkowski (DLT Solution Manager) and Prof. Dr. Philipp Sandner (Head of the Frankfurt School Blockchain Center) spoke about:
✔ What are DLT/Blockchains and cryptocurrencies
✔ What are the benefits of blockchain-based systems
✔ What do we mean by Smart Contracts?
✔ Is blockchain ready for commercial projects
✔ How to choose the right technology
✔ What are the current trends in DLT
It was the first workshop of our Blockchain Competence Center. As participants and co-organizers say – one of the best workshop at the Frankfurt School. We are continuing cooperation – soon we will announce next blockchain themed events.
Let's get in touch!
Write to us if you want to talk about how we can work with you or your company.