Why do companies and customers need ISO?
07.08.2023
More and more organisations are choosing to implement ISO standards – mainly ISO 9001, intended to increase customer satisfaction, and ISO 27001, related to information security management. This should not be surprising. The benefits of standardization are clear to both parties to the business relationship. What benefits can companies and their customers enjoy after implementing ISO?
What is ISO?
ISO is the International Organisation for Standardization. It was first established in October 1946 and started operating in February 1947. Initially, ISO brought together 65 standardisation bodies, including the Polish Standardisation Committee. Currently, its members include 168 national standard organisations. Although ISO is referred to as the International Organization for Standardisation, the institution's name is not an abbreviation. It comes from the Greek word ίσος (isos), which means "equal". It is meant to emphasize the uniformity which results from the implementation of ISO standards in companies across various industry sectors around the globe.
What does ISO do?
ISO specializes in standardization, i.e. in determining and describing standards for services, management systems and products. So far, the institution's experts have developed 24,759 international standards. They are included in the publicly accessible catalogue of ISO standards. What areas do they apply to? Initially, the organization worked on the standardization of units of measurement and weight. Currently, ISO standards regulate large areas of the operations of organisations and enterprises, such as quality management (the ISO 9000 family) or security (ISO 27000 family). Their implementation is voluntary and possible for companies and institutions of various sizes.
Why do companies need ISO – what are the benefits of certification?
The implementation of ISO standards is not obligatory and entails specific costs, e.g. fees for the support of consulting entities, employee training programmes, reorganization or for launching the certification process. However, a growing number of entrepreneurs from various countries decide to go down that road. Why is that? Read on to find a list of key benefits.
A company's compliance with ISO standards for products, services or management systems facilitates international trade and cooperation. Certification is a key factor which opens up access to new markets. It generates trust and is seen by foreign business partners as a guarantee of the compatibility and quality of the services or products offered.
ISO standards help companies of different sizes and representing various industry sectors to reduce cost and increase productivity. How is that possible? All company procedures are verified during the implementation of ISO standards and during the certification procedure. This helps to detect irregularities in particular areas, introduce improvements, manage quality better and streamline the use of resources.
For small to medium-sized enterprises (SMEs), implementation of ISO standards may be helpful in gaining customers' trust. ISO certificates boost the company's image, reinforce its credibility and guarantee the security of the products and services offered by the company, as well as of the information it obtains.
ISO-compliant enterprises and organisations can expect to meet the requirements resulting from other countries' regulations at a lower cost. Adherence to international ISO standards helps companies to avoid the need to abruptly introduce significant and costly changes.
Implementing or updating ISO standards at the company is a way to meet customers' growing requirements, e.g. as regards customer service quality or data security. This results in greater consumer satisfaction, which translates into future business loyalty.
The in-depth knowledge of the organisation obtained during ISO implementation and certification translates into streamlined internal and external communication, improves the employee management and qualification system, as well as increases the engagement of company staff members.
Why do customers need ISO – why is it worth investing in certification?
Gone are the days when the price was the customer's main criterion for selecting a company. Currently, factors such as customer service quality or information security are increasingly often the drivers behind customers' decisions. One of the ways to attract or retain customers is to showcase your ISO certification. Why is that?
An ISO-certified company has proven that it follows international standards, which is a guarantee for consumers that the products and services it offers are safe, reliable and of high quality and that the company itself operates in line with the adopted standards and procedures.
ISO standards are exactly the same for all companies and organizations worldwide. A customer looking for a specific product or service in an unfamiliar market will be more likely to choose those offered by a company holding an international ISO certificate. It ensures that products and services will work exactly the way they expect them to.
An ISO certificate held by a company inspires customers' trust as it not only attests to the very good quality of products and services, but also to data security (ISO 27000 series). An ISO certificate is a confirmation that someone has previously checked the quality of the services offered and that all irregularities have been eliminated.
Customers choosing ISO-certified providers can count on easier business communication, especially as regards global collaboration. Alignment with international standards makes it necessary to standardize the terminology, symbols and markings used.
Conscious foreign customers are more willing to choose companies with ISO 9000 certificates, as they are focused on the continuous improvement of processes and conduct regular customer satisfaction surveys. This improves the quality of the products and services offered. This approach puts customers' needs at the very centre.
ISO at j‑labs
At j‑labs we know how important the human element is in business – this applies to both our customers and employees. One of the ways in which we can meet the expectations of both of these groups is to obtain the ISO 9001: 2015 and ISO/IEC 27001 certificates. Our processes comply with the requirements of these international standards. This is a guarantee of the high quality of the services we provide, as well as of the security, confidentiality and accessibility of the information and data we are entrusted with. Want to learn more about the certification process at j‑labs? Read our article: https://www.j-labs.pl/en/business-blog/evolution-not-revolution/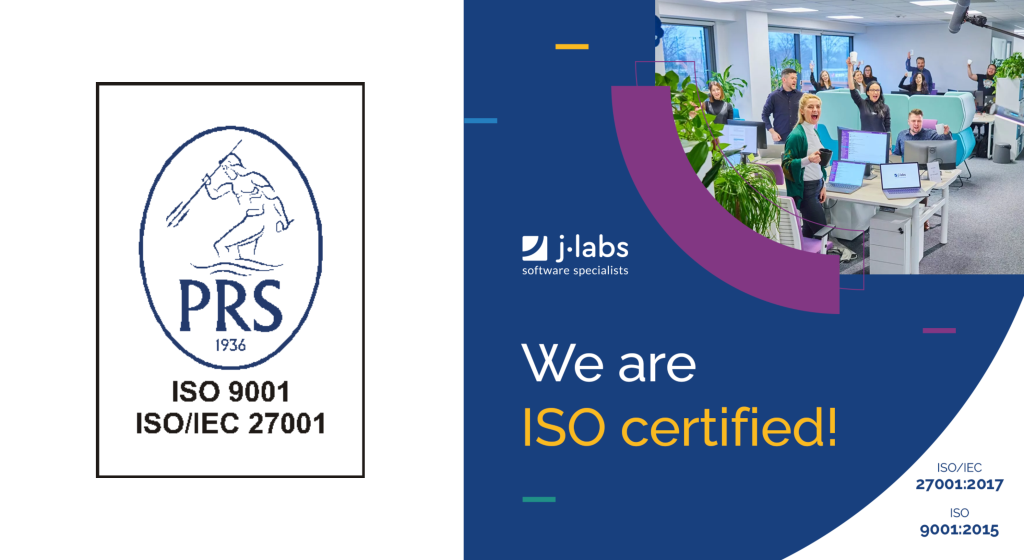 Meet
mageek of j‑labs

and let us surprise you by how work with j‑people may look! Contact us